Organ that recycles sound wins New Music award
The Organ of Corti – which takes sounds from saturated environments and recycles them using sonic crystals – wins £50,000 prize for most innovative idea for a new musical work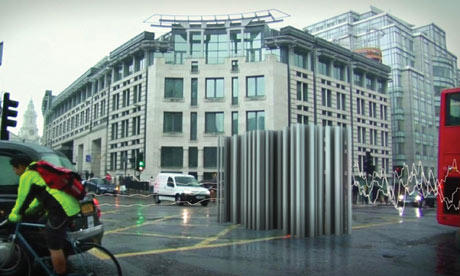 A £50,000 award given to the most innovative idea for a new musical work was tonight given to an arts practice that recycles everyday noise whether it is the repetitive drone of motorway traffic or the tumbling rapids of a weir.
The biennial New Music award is one of the most financially lucrative prizes in the arts calendar – more even than the Turner or Mercury – and is given to what is judged the most groundbreaking concept for a new musical work, whatever the genre.
At a ceremony at the Serpentine gallery pavilion, in London, first prize went to an arts practice called liminal led by composer David Prior and architect Frances Crow, for their entry, The Organ of Corti, named after a part of the inner ear.
In essence, the project sculpts sounds. It uses a portable structure resembling a fairground organ to take sounds from saturated environments and recycle them using sonic crystals. One of the project's aims is to encourage people to listen more carefully and be more aware of the sounds around them.
The judging panel was chaired by the Guardian's chief arts writer Charlotte Higgins. She said the decision had been unanimous after "a long, sometimes difficult, and always stimulating debate". She added: "The judges admired the quiet beauty of the idea of 'recycling' sound in a world saturated by noise and overwhelmed by music. In a world obsessed by glitz and glamour of large-scale, bells-and-whistles events, the thoughtful, discreet and gentle idea of the Organ of Corti utterly caught their imagination."
The prize, established in 2005, is funded and organised by the PRS for Music Foundation which funds music across all genres, supporting everything from unsigned bands to composer residencies.
Sally Taylor, the foundation's chair, said the award was "about looking beyond the obvious and the commercial and envisaging the music of the future. All five ideas on this year's shortlist, which ranged from site-specific sound art to African-inspired human beatbox, captured this spirit of adventure and discovery."
The liminal work will now premiere at the City of London festival in July 2011. It was chosen by a judging panel that also included the artist Martin Creed, the singer and DJ Bishi, the pianist and conductor Joanna MacGregor, the composer and pianist Michael Finnissy and the music journalist Paul Morley.